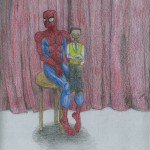 To celebrate 50 years of Spider-man this month here's a little something from my comic. Click on the thumbnail or look in the 'Sketches' tab for the full size image.
I never usually colour things in but thought I'd get the crayons out for a change. More sketches here and here.
I can't believe no one has used the ventriloquist idea before – if you see anyone using it you know you saw it here first folks!